Laparoscopic Hysterectomy
Laparoscopic Hysterectomies are done using an instrument known as a laparoscope (a tube with a lighted camera) and surgical tools inserted through small abdominal incisions. Ever since the first laparoscopic hysterectomy was reported in 1989, there's been a trend to change the approach to hysterectomy from the open abdominal to a laparoscopic technique to reduce hospital stay, recovery time, scarring and risks. "Lap hystos" may be the most common hysterectomy procedures used for trans men.
The two most widely used types of Laparoscopic Hysterectomy are Total Laparoscopic Hysterectomy (TLH) and Laparoscopically-Assisted Vaginal Hysterectomy (LAVH.)
Newer, less common types include DualPortGyn Minimally Invasive Hysterectomy and Single-Port Laparoscopic Hysterectomy (SILS), aka Laparoendoscopic Single-Site Hysterectomy (LESS.)
Total Laparoscopic Hysterectomy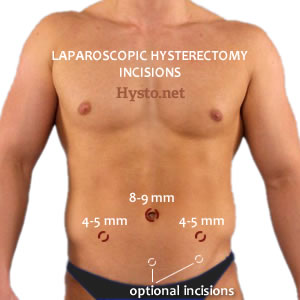 Total Laparoscopic Hysterectomy (TLH) is a minimally invasive procedure which removes the reproductive organs through small abdominal incisions.
The patient is put to sleep with general anaesthetic.

The abdomen is inflated with CO2 gas to improve visibility of the organs.

A laparoscope is placed through a 5-6 mm incision in the belly button and the images of the internal organs are displayed on an HD screen.

Two or three other small incisions are made on the abdomen and are used to insert surgical instruments.

The surgeon cuts the organs into smaller pieces and removes them through the incisions.
Surgery time is approximately 2 hours. Patients may be released from the hospital on the same day as surgery, or stay for one night.
Recovery time is about 2 weeks. More strenuous physical activities can be resumed in about 6-8 weeks.
The advantages of TLH are decreased blood loss, smaller incisions, shorter hospital stay, faster recovery time and fewer abdominal wall infections when compared with Abdominal Hysterectomy.
Robot-Assisted Laparoscopic Hysterectomy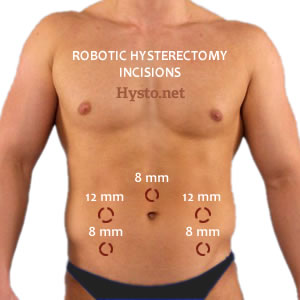 Also known as da Vinci Robotic Hysterectomy, this minimally invasive procedure is similar to TLH but the surgeon controls a sophisticated robotic system of surgical tools from outside the body. Robotic surgical tools can maneuver in ways that traditional laparoscopic instruments can't.
Compared to TLH, Robotic Hysterectomy has a longer surgery time (2-4 hours), higher cost, uses larger incisions (5 x 8-12 mm) and has a slightly longer recovery time (2-4 weeks.) The benefits of robotic hysterectomy are clear when compared to Abdominal Hysterectomy but have not been established vs. TLH. The American College of Obstetricians and Gynecologists recommend TLH and Vaginal Hysterectomy over Robotic Hysterectomy for these reasons.
Laparoscopically-Assisted Vaginal Hysterectomy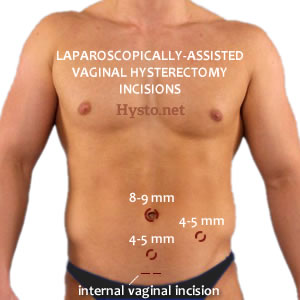 Laparoscopically-Assisted Vaginal Hysterectomy (LAVH) is procedure that combines TLH and Vaginal Hysterectomy. With LAVH, a laparoscope and surgical tools are inserted through small abdominal incisions and organs are removed from a small incision at the top of the vagina.
Patients with enlarged organs or fibroids or vaginal atrophy are not good candidates for LAVH.
Recovery time is a bit longer than TLH, about 3-4 weeks.